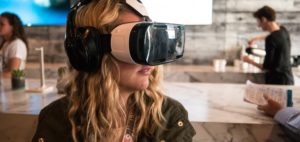 Dive Brief:
The leadership training program at University of California, Berkeley, has announced plans to adopt a virtual reality tool for its soft skills training.
The tech will blend artificial intelligence with human interaction in an attempt to provide learners at the Robertson Center for Intercultural Leadership "with an immersive experience to enhance their leadership practice," according to an announcement from the school's chosen vendor.
The organization said the initiative aims to train learners for challenging interpersonal moments on the job in a low-risk environment and in a personalized way.
Dive Insight:
Virtual reality has in recent years been a favorite among those training workers in dangerous or rarely encountered scenarios. From truck driving to insurance adjusting, the tech has been hailed for its ability to create a safe environment for learners.
Now employers are finding a use for the tech in soft skills training, too. Learners are able to, for example, practice interacting with an employee who is being fired — and receive feedback on their performance. These skills have been more in demand as the shelf life of specialized skills continues to shorten. In fact, LinkedIn identified "soft skills" as employers' top training priority last year. The pace of change in the age of automation is fueling demand for adaptable critical thinkers, communicators and leaders, the organization said.
Moreover, as the Berkeley announcement noted, VR is customizable, allowing learning and development pros to personalize their offerings. And that may be critical to engagement and knowledge retention when it comes to workforce training. "People are increasingly interested in personalized learning journeys, catering to the specifics of what they're looking for," Michelle Tasevski, director of learning and development at Addison Group previously told HR Dive. "It is all about getting the right content to the right person at the right time."
Quelle:
Foto: Flickr: Nan Palmero
https://www.hrdive.com/news/berkeley-to-use-vr-to-train-for-challenging-interpersonal-moments-at-work/565488/